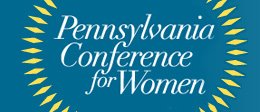 The annual
Pennsylvania Conference for Women
first opened its doors in 2004, and since then it has grown to attract more than 5,000 attendees and truly impact lives. The 2012 Conference will be held October 2, 2012 at the Pennsylvania Convention Center in Philadelphia.
Now in its ninth year, the
Pennsylvania Conference for Women
is a non-profit, non-partisan, one-day professional and personal development event for women that features dozens of renowned speakers sharing inspirational stories and leading seminars on the issues that matter most to women, including health, personal finance, executive leadership, small business and entrepreneurship, work/life balance, branding and social media marketing, and more. The Conference offers incredible opportunities for business networking, professional development, and personal growth.
Click here for details + to register!