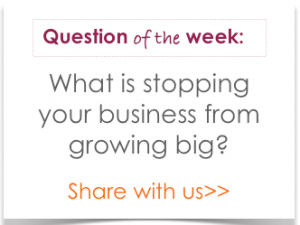 Shared by Misty Gibbs, Founder of Empower Lounge
The reason I'm posing this question for the week - what's stopping your business from growing big - is because I think I've figured my answer out (at least for now) so execution is the only thing left to do. For Empower Lounge, it's human capital. I've said to numerous friends, "If I had a few great people on my team, Empower Lounge would take off." Then I walk away and say to myself, "Grrrrl, then why aren't you doing it?!" I know what's stopping me and probably you - money.
Then I'm the phone with
Melody Biringer, CRAVE Founder + Startup Junkie
, who tells me she has four interns starting on Monday - for free - for school credit.
So guess what I'm doing next week? Posting intern positions on Craig's List, a surprisingly great resource for this, in addition to local colleges.
So share with us in the comments: What's stopping your business from growing big?