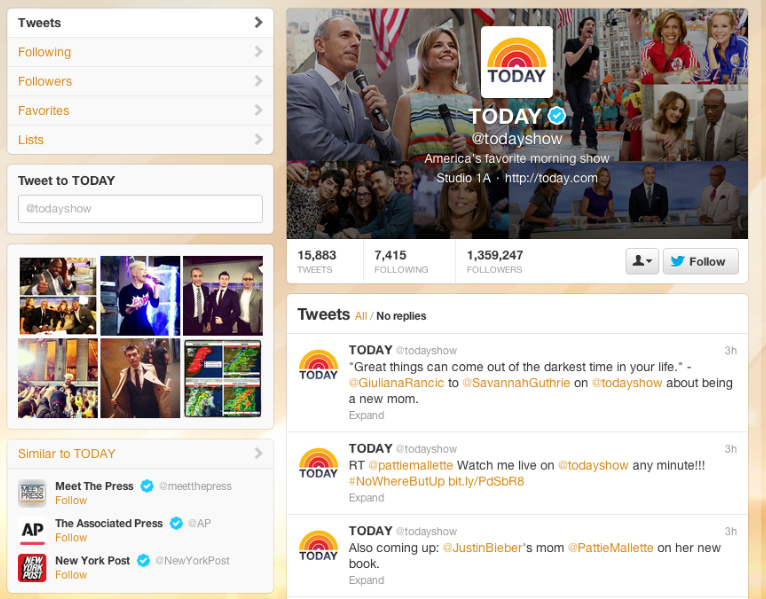 Twitter
unveiled their profile page redesign
on The Today Show and as you can see, it's much more visual offering creative branding opportunities and ways to connect with your customers.
Starting today, you can upload an all-new 
header photo
 on mobile apps for iPad, iPhone and Android or twitter.com, and the same image will appear whenever anyone views your profile on the web or these apps. You can upload your header photo, which appears above your Tweets, to express yourself instantly, anywhere.
Entrepreneur.com
did a great job of highlighting a few creative ways to make the most of Twitter's redesign to help your brand stand out. Here's a few things to implement and keep in mind:
Twitter suggests using a profile header image that is 1,252 pixels by 626 pixels for optimal display across all possible devices.It's the first thing your customers will see when visiting your page. Don't use it to sell or simply slap a logo up there.
Be creative, make it unique and send a message.
Also, design around the profile photo, as it's centered in the middle of the image. You have this space to tell your story, amaze people and brand yourself or your company. Just like you have to make 140 characters count, make this image count.
Other changes that present branding opportunities include:
The opportunity to overlay a 160-word bio.
Your bio literally floats over your profile photo image, so make sure to tie the two together. Because the image will draw attention, your brand's bio will be an even more important message.
"Pin" your favorite tweets to the top of your profile.
This is a way for you to highlight content that's important to you or your brand and get it in front of your followers.
Photos stream below recent tweets on mobile devices.
Users can see a stream of photos below recent tweets on iPhone, iPad, and Android. You can swipe through them and tap any picture to enlarge it. This makes the way people consume content on Twitter more visual, which in turn can motivate actions and interactions.
For the full article,
visit Entrepreneur.com.