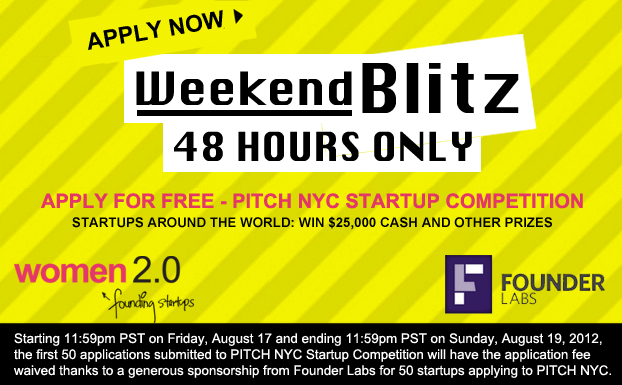 Starting at 11:59pm Pacific Standard Time (PST) on Friday, August 17 and ending at 11:59pm PST on Sunday, August 19, the first 50 applications to PITCH NYC Startup Competition will have their application fee waived thanks to a generous sponsorship by Founder Labs.
The application fee is normally $100 for the competition. 
Apply here for PITCH NYC.
Take advantage of this limited time offer and apply this weekend. Competition finalists pitch live on November 14 at the 
PITCH NYC Conference & Competition
 in front of investors and entrepreneurs for top prizes including $25,000 cash, investor meetings and useful startup services.
By Angie Chang (Co-Founder & Editor-in-Chief,
Women 2.0
. 
Follow her on Twitter at 

@thisgirlangie

.
)
What's your big idea? Women 2.0 wants to hear about it.
Startups with at least one female founder and less than $1 million in funding are invited to apply for
Women 2.0′s fifth annual PITCH NYC Startup Competition

.
Fill out the online application, send in a paper napkin to Women 2.0 and film a 2-minute video pitch.
Prizes include $25k cash and a suite of startup-friendly services. PITCH Finalists have also talked about the intangible benefits at pitching and being present at Women 2.0 PITCH.
What Happens To PITCH Finalists?
Competition finalists will pitch onstage at
PITCH NYC Conference and Competition 2012
on November 14 for top prize. Previous PITCH finalists include Clara Shih (CEO, Hearsay Social; Board Member, Starbucks), Niniane Wang (CTO, Minted), Sarah Allen (CTO, Mightyverse), Amita Paul (CEO, ObjectiveMarketer, acquired by Emailvision in 2011), Hilary Decesare (CEO, Everloop, raised $3.1M in funding in 2011).
PITCH 2010 Finalist Jessica Bishop (CEO, Klink Mobile) says, "Just applying to PITCH helps you nail down your core message and better understand your goals as a startup founder. I would highly recommend Women 2.0 PITCH to anyone."
Who Should Apply To PITCH NYC?
International applicants are welcome to apply. The only requirement is that they must be present to pitch in NYC at the November 2012 conference if they are selected as finalists. If you have questions about applying to PITCH NYC and eligibility, please contact us.
Mark Your Calendar – Deadline To Apply Is August 31, 2012.
We're looking forward to receiving your submission and seeing you on November 14 at our biggest event of the year – PITCH NYC Conference & Competition 2012!
Angie Chang co-founded Women 2.0 in 2006. She currently serves as Editor-In-Chief of Women 2.0 and is working to mainstream women in high-growth, high-tech entrepreneurship. Previously, Angie held roles in product management and web UI design. In 2008, Angie launched Bay Area Girl Geek Dinners, asking that guys come as the "+1″ for once. Angie holds a B.A. in English and Social Welfare from UC Berkeley. Follow her on Twitter at @thisgirlangie.