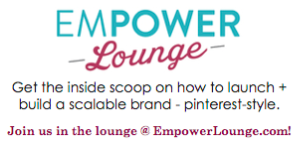 Happy New Year to our Empower Lounge community!
As you can tell, we have a very new look around here and would love your feedback. It's like Pinterest For Women Entrepreneurs!
The redesign was inspired by one of our readers who reached out to us in December saying she had a hard time reading Empower Lounge on her iPhone while sitting at the airport. This made me realize how important it is to make Empower Lounge accessible to you on the go. Now you can experience the lounge on the web, mobile and iPad! Woot!
Featuring more fresh content on the homepage and expanding our channels was another goal. The new redesign gives us the flexibility to do this in a fun, engaging way which is how we like to roll around here!
We're just getting started and have lots of exciting things coming up including being able to share your content with the community and having a "favorites" board! In the meantime, we would love to hear from you! Share your comments below - good and bad! - to let us know how we can better serve you and your business!
Cheers!
Misty Gibbs, Empower Lounge Founder