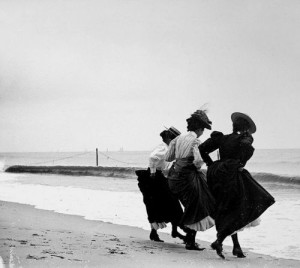 Take a moment to explore the incredible online exhibit by National Women's History Museum -  From Ideas To Independence: A Century of Entrepreneurial Women.
Per NWHM, the exhibit explores the legacies of entrepreneurial women, who forged through challenges and setbacks to create their own paths to economic and professional independence and open their own businesses. The exhibit highlights businesses of female entrepreneurs from 1910 to present, including Elizabeth Arden, who began her career in 1910 as a nurse and then dental assistant, and later launched a skin cream and Fifth Avenue salon that turned her into a household name; and Ruth Fertel, who as a single mom in 1965, mortgaged her house to launch Ruth's Chris Steakhouse. The exhibit, sponsored by Microsoft, recognizes the increasingly prominent role that technology has played in enabling women to launch and sustain new businesses.
Conclusion:

The last century of women's entrepreneurship is not simply a tale of triumph or of an incomplete revolution. It is a story of risks and rewards, of women who had an idea and so believed in the possibilities that they battled obstacles and gender bias and forged networks to make it a reality. Together, their singular efforts combined to stake a claim for women in the world of enterprise. Not all of them made it; not all of those who did saw their ventures become major corporations. But small and big, women's ventures came to comprise 30 percent of all U.S. businesses—many of them today in categories that were once men's alone. The lesson they teach is the power of possibilities and passion to transform lives. The next century promises to be even brighter for women's entrepreneurship. New technologies emerge daily to make business ownership more affordable and easily managed while new financing opportunities are increasingly available. Experts predict that by 2018, women's businesses will create more than half of the new small business jobs and a third of the nation's total new jobs. Beyond that, anything is possible.

- National Women's History 
Museum
Check out the lounge's 
video tribute
to women entrepreneurs around the world!