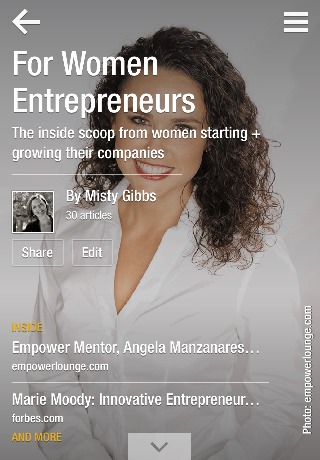 Shared by Misty Gibbs, Empower Lounge Founder
Are there any Flipboard fans out there? I hope so and if not, maybe we will inspire you to check them out! I'm a huge fan and follower of Flipboard for the iPad and iPhone. Like Empower Lounge, they believe in the power of combining visual inspiration with content to engage readers. If you're not a user YET, think of it as a gorgeous digital magazine for discovering and sharing great content on the web and via your social networks. One of my favorite things to do is lounge on the couch flipping and curating content that I think you will find useful and inspiring!
So here's the exciting news and the reason for my post - Flipboard just launched a new feature that allows anyone to create their own magazine around a topic, and share it with other users. Naturally, I created a magazine called "For Women Entreprenuers" featuring the best of Empower Lounge and curated content from select partners. More importantly, with millions of Flipboard users, the women entrepreneurs we feature will have greater visibility and impact on inspiring and mentoring other women around the world interested in launching or growing their businesses!  At Empower Lounge, this is what it's all about!
You can subscribe to For Women Entrepreneurs for free and can't wait to see you there!