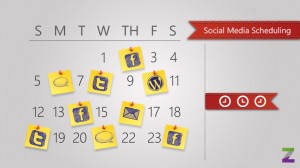 Originally shared on SimplyZesty - our new favorite site and daily email for social media tips + guides.
There are a number of different tools that will help you out with scheduling content. Finding which one works best for you depends on your needs and what type of social media channels you use, but there are a number of great tools out there to choose from.
1. Facebook
Anyone who is a regular user of Facebook pages would probably know that the site has its own scheduler for you to take advantage of. Not only can you update your posts on desktop, but you can do it through the Facebook pages app too. Anytime you're writing a post (make sure it's in the voice of the page and not your own personal account), you will notice a clock icon at the bottom. Clicking on it will let you schedule the date and time your post will go online.
2. Tweetdeck
The old reliable for when you're handling multiple streams and accounts, everyone pretty much knows what Tweetdeck has to offer, one of those features is scheduling tweets. If you haven't been put off by the numerous changes Twitter has made to it over the last few months, then you'll find it useful.
3. Hootsuite
A great alternative if Tweetdeck has put you off. Hootsuite offers the same features as Tweetdeck, but what it has to separate it from other products is its AutoSchedule feature. It will choose the best times for your tweet or post to be published.
Another scheduler that has garnered a lot of praise, Sprout Social's primary purpose is a social media monitoring tool, but it also allows its users to schedule posts and messages on Twitter, Facebook and LinkedIn. As well as being able to queue up posts and cross-post content, it also allows you to integrate RSS feeds for sharing, allowing you to queue up content easily.
If your social media responsibilities are broken down between three or more people, then Sprout Social is a tool definitely worth looking into.
5. Buffer
The original auto scheduler and one that has gained a lot of fans since it was first released, Buffer lets you queue up posts on Twitter, Facebook, LinkedIn and App.net and automatically posts them for you throughout the day. The service will space out your posts and post them during times your followers will see it. It's available for major browsers and smartphones meaning it's can be used no matter where you are.
6. Tweriod
Another good auto scheduler tool for Twitter, Tweriod analyses your tweets and your followers' tweets to determine the best times for you to tweet. The service is free if you have less than 1,000 followers, however. After that, the cost ranges from $4 a month for accounts with 1,001 – 4,999 followers to $15 a month for accounts with over 50,000 followers.
Read the full article on SimplyZesty - our new favorite site and daily email for social media tips + guides.