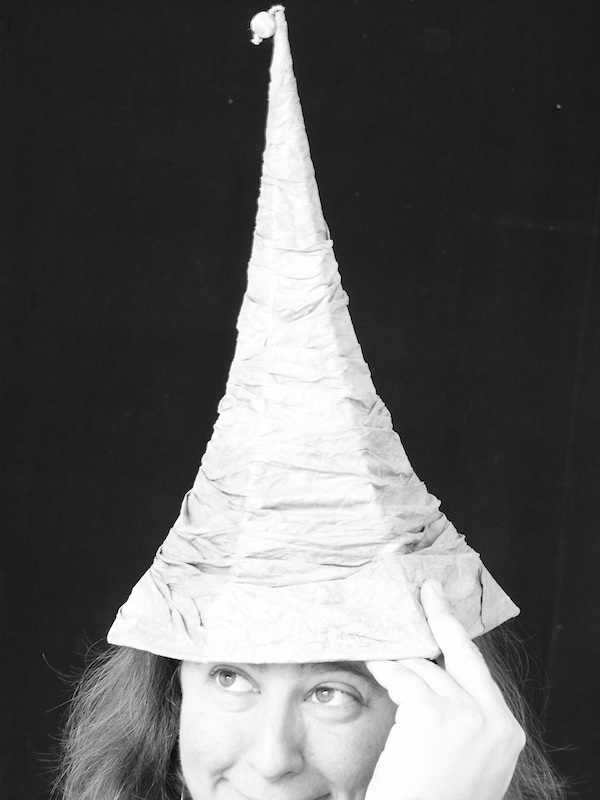 Meet Jen Bilik, founder of Knock Knock, a gift and stationery business like no other. As you can see, Jen thinks life is too short to not have fun and has lots to celebrate - Knock Knock has been in business for 10-years and close to generating $10 million in revenue!
Briefly tell us about the company you've built and the inspiration behind starting it.
I was a book editor back in my 20's and landed a job with a book publisher that sold coffee table books. When I saw the visual and verbal elements together, the creative side of me started to emerge and was inspired to create my first piece - the January Holiday Card for those who procrastinate on sending holiday cards. For Valentines Day, I created a poster "How To Find True Love" and everyone was telling me I should sell it but the thought of starting my own business sounded unpleasant and stifling.  Then I had an AHA moment - my business could be a "creative studio" where I create and sell fun, artsy humorous products! Knock Knock was born!
Bootstrap and/or raise money – how did you get started? 
I bootstrapped Knock Knock with the money I made from selling my apartment. The products sold well from day one but needed additional funding to grow because my product was selling vs. not selling - big difference. I was fortunate enough to have a wealthy family member step in and loan me the capital necessary to take Knock Knock to the next level.
Gift + Stationery is such a hard business - which products did you launch Knock Knock with and what has been the secret to your success?
I launched Knock Knock with 14 products to offer a variety of options and test response: The Personal Library Kit (a #1 seller today), Wishing Kit (a dud but still my favorite one!), True Love Poster, A Year of Cards, Greeting Cards and Wrapping Paper.
Rather than a product category, material, or target market, Knock Knock's unifying force is a sensibility. We stand out by uniquely combining humor, function, organization, and aesthetics to everyday life. Our tagline says it all: We Put The Fun in Functional.
What should women consider before starting their own business?
There's this perception out there that having your own business gives you all kinds of freedom and control. That couldn't be further from the truth. Your success is controlled by all kinds of external forces and you're constantly surfing the wave. You need to be equipped with optimism, confidence, self-awareness and knowledge. I also think there's a huge opportunity for women entrepreneur conferences to step it up and have more discussions on successful business models, strategies and execution. Inspiration and rah-rah is good but then it's time to get serious.
I believe too many creators are focused on expressing themselves instead of the business side - how are they going to be different, is it a scalable concept and will it sell.
Let's talk money - what's your annual revenue and your experience with rep firms?
We are close to generating $10 million this year - just in time for our 10-year anniversary! Our 1st year revenue was $35k, 2nd year - $650k and 3rd year - $1M+. 94% of our revenue is from wholesale retailers and 6% from the website. Boutique gift & speciality stores sell our products in addition to Barnes & Nobles, Urban Outfitters and Target.  We work with reputable rep firms to represent Knock Knock to the big chains and have a National Sales Manager who manages these relationships  My advice is to do due diligence before signing with a rep firm - look at other clients they represent, etc. The same goes with choosing a manufacturer - a bad one can bankrupt you. We had a horrible experience with a manufacturer broker who was fraudulent and couldn't fulfill orders on time. Make sure to get competitive bids, references, etc.  Can't emphasize this enough!
Low cost marketing strategies – what has been the most successful for helping you drive awareness?
We have never advertised - for us it's been PR, PR, PR to get features everywhere. DailyCandy, Real Simple and Oprah had a huge impact on our business in the past but now we see a great response from bloggers writing about Knock Knock.
Best ways to connect in your industry – which national and local networking organizations, conferences have you found most valuable?
We always attend the Atlanta Gift Show and New York International Gift Fair. All the big box chains attend these shows.
I also attended the National Conference on Operations and Fulfillment - it was as boring as it sounds but super helpful.
Share your secret weapons – what business apps, tools or mottos help you run your business/life efficiently? 
Excel for our creative schedule and tracking deadlines. We have tried other fancy tools but keep going back to Excel. We have systems in place for everything and a huge fan of SMART goals. SMART is an acronym for Specific, Measurable, Attainable, Relevant, Time-Bound.  For example, reach out to 5 bloggers a week. It works.
The first thing I did when I started Knock Knock was hire an assistant. I was now responsible to her. Without this accountability from the beginning, I don't think I could have pulled it off on my own.