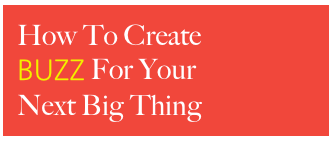 John Jantsch, Founder of Duct Tape Marketing, shares a very useful list of ideas leveraging social media to help you build buzz for your next sale, event or launch. He says even small, local businesses can take a clue from large organizations, like Dell and national events like the MLB All-Star Game to create a "social media command center" approach to promoting a concentrated happening such as a new product launch, new store opening or seasonal sale. The key is to approach it as a very special event and not something you're trying to maintain long-term.
Here's John's power list for building social media buzz around your promotion. His ideas are tailored to what a local retailer could implement for Black Friday but can be used for any big event, launch or sale.
Create logo for your theme! – a simple visual to use in all of your merchandising for the event can be a great tool when it comes to sharing on sites with images.
Decide on and check an event hashtag – choose a #hashtag that you will use throughout – make sure to check and see if it's in use by some other cause or theme as you don't want to find out mid-sale that your hashtag is also slang for a very naughty act in some Iowa subculture.
Claim your Facebook location for checkins – if you have not yet done so claim your location on Facebook and create ways for people to earn prizes by checking in on their Facebook page. (Check out 

Wildfire

 and 

North Social

 apps.)
Twitter hashtag tweets – Start tweeting using your hashtag a week prior and create in store posters, flyers and emails to publicize all of your social media activity during the event
Choose a local or related charity partner and donate so much per tweet or share during the day
Twitter search – Set up a number of twitter searches related to products and other aspects of your event and reach out to people tweeting before and during your event
Pinterest – Create a Pinterest account and start pinning images of products you are featuring during the event
Live Blog – Create a live blog on your WordPress blog 

with this plugin

 or use Tumblr and create updates throughout the day
Live Tweets – Assign someone in store to live tweet out hourly specials, giveaways and images of happy customers using the hashtag
Google Hangout Live to YouTube – Run hourly Google+Hangouts streamed live to YouTube and announce offerings, interview customers and create news like coverage
Foursquare checkins – Create Foursquare checkins particularly focused on swarm discounts
Hourly specials – Promote your hourly specials on every channel
Display real time stream – Use a tool like 

Postano

 to display real-time tweet and social stream in the event
Bring Facebook into the event – Install a camera station and let customers upload images to the Facebook pages for even more free stuff
Hide discount codes in YouTube videos – Create a series of YouTube videos featuring products on sale during the event and hide discount code in the videos and promote sharing the videos and codes
Facebook ads – Run tightly focused Facebook ads and promoted content ads focused on local and related brands – if you sell certain brands target any local fans of the brand or product category
Tweet branded messages to get early, early access – Create early, early bird access for people that fan, like, share and RT
Consider a street team – think about sending employees out into busy places throughout the day to surprise shoppers with free stuff for tweeting, Liking or sharing images.
Duct Tape Marketing has become one of our favorite go-to sources for marketing tips.