Meet Rising Star and woman entrepreneur,  Katie Niemeyer. She's 

Founder of Handana

, a high performance fashionable sweatband.
Location: Austin, TX
Follow Katie on Twitter + Facebook.
Tell us about the company you've built and the inspiration behind building it.
I was inspired to create my product while training for my first marathon.  I had a dedication to create something unique and have it made right here in Texas.  I made a lot of great connections along the way; people who helped me achieve this goal.
Bootstrap and/or raise money – How are you funding your business? Are you seeking capital?
I've self-funded my business all along.  I'm proud that I have not sought outside funding or other capital support.
The Goods: What eCommerce platform did you use to sell your product on your site?
Our eCommerce platform is woo commerce on wordpress by Mindwink.  Mohammad at Mindwink did an excellent job creating our website.  He is very professional, answered all our questions in a timely manner, and continues to help with helping us understand our site as new challenges arise.
Going big: What 3 things are you working on to drive growth?
I'm reaching out to training groups here in Austin and throughout the country.  I'm connecting with other apparel manufacturers to tap into new style trends.  I am constantly working with social media to get my product in front of new people daily.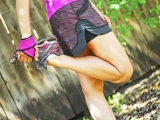 How does your brand stand out from the competition?
Handana's  patent is filed. Because of Handana's total uniqueness, I haven't found much direct competition. 
Staying connected: Which national and local networking organizations, conferences have you found most valuable?
I have debuted my product at a ZOOMA Race at the Texas Hill Country Resort but am looking forward to The Running Event being held here in Austin this December where I will be one of the featured New Product of the Year nominees.
Challenges: What is holding you back and how can we help you?
I'm grateful for any exposure and connections that I make and am proud to be featured on EmpowerLounge!