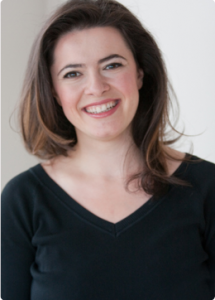 Tara Mohr is here to help us play big, overcome our fear and calm our inner critic.  She's creator of the 10 Rules of Brilliant Women and global Playing Big leadership program for women.
During the summer of 2010, I wrote an article called "10 Rules for Brilliant Women." The article talked about 10 principles I saw "brilliant" – smart, creative, visionary women not acting upon - to their detriment. The article struck a huge chord, first at Huffington Post, then at More Magazine.com, and soon all around the web.
Most brilliant women don't see their own brilliance and are "playing small" and they know it: not speaking up, doubting themselves, seeing themselves as "not yet ready" to launch the big idea, the organization, to put themselves at the table. The 10 Rules, and the other work I do with women leaders are about learning how to quiet self-doubt, clarify purpose, and become comfortable with taking bold action in the workplace and in the world. That is what I teach, and I love to teach it because I'm still learning it myself.
We're kicking off a short series on Empower Lounge to share several of the 10 Rules for Brilliant Women to help you think big in your business!
Question the voice that says "I'm not ready yet." I know, I know. Because you are so brilliant and have such high standards, you see every way that you could be more qualified. You notice every part of your idea that is not perfected yet. While you are waiting to be ready, gathering more experience, sitting on your ideas, our friends referenced in rule five are being anointed industry visionaries, getting raises, and seeing their ideas come to life in the world. They are no more ready than you, and perhaps less. Jump in the sandbox now, and start playing full out. Find out just how ready you are.
Reflection Questions:
Things I hope to do one day but think I'm not ready to do now are . . . (start the business, have more responsibility, write the article, start the
blog, charge more for my services, ask for more money at work, lead x, create y)
I think I need more ____ in order to go for these things:

• expertise
• experience
• practice
• mentors
• money
• time
• maturity
• experimentation
• ___________(add any other factors to this list)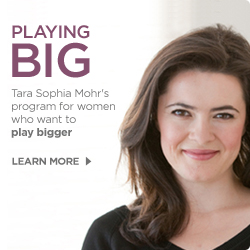 You can sign up to receive the 10 Rules for Brilliant Women Workbook, PLUS get regular updates and Tara's Poems for Wise Living.
Tara Sophia Mohr is a writer, teacher and coach who helps women play a bigger game in their lives and their work. Tara is the creator of the Playing Big women's leadership program and the author of the free 10 Rules for Brilliant Women Workbook. Her work has been featured on the Today Show, Whole Living, ForbesWoman, More Magazine, and in many other publications.