World-class presenters like Jobs, Harrison, and Vaynerchuk aren't selling computers, clean water, or wine. They're selling the dream of a better tomorrow. -Marta Kagan
On HubSpot, Marta Kagan shared the 7 lessons we can learn from three of the world's most captivating communicators - Steve Jobs, Scott Harrison (charity: water CEO)  and Gary Vaynerchuck. It's probably safe to bet that public speaking is one of the biggest fears we all have in common! Marta did an amazing job of capturing and breaking down the magic, simplicity and lessons we can put in practice to become the next great storytellers and captivating presenters.
Start with paper: The single most important thing you can do to dramatically improve your presentations is to have a story to tell before you work on your PowerPoint file.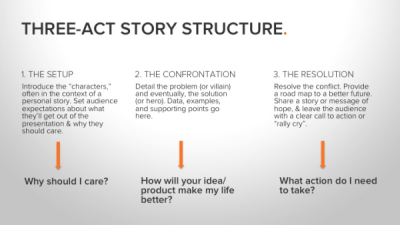 A picture is worth a 1000 words - ditch the bullets: Images are wicked powerful. Use them liberally. This may be hard to believe, but Steve Jobs never used a single bullet point. Not once. His presentations were always remarkable spare, relying on a few powerful images and carefully selected words or phrases.
No jargon: When Steve Jobs introduced the world to the iPod, he said "iPod. One thousand songs in your pocket."
Emotions get attention: "People will forget what you said, people will forget what you did, but people will never forget how you made them feel." - Maya Angelou
Gary gave an impassioned, inspiring 45-minute keynote - at 9 o'clock in the morning - without a single PowerPoint slide. He had the audience laughing, cheering, and tweeting like mad. He, too, earned his standing ovation.
Tell your story in 3 acts: By structuring your presentation with a clear and compelling beginning, middle, and end, you'll take your audience on an exciting journey … the kind that inspires action, sells products, and funds businesses.
As Carmine Gallo puts it in his book, The Presentation Secrets of Steve Jobs, Steve "transformed the typical, dull, technical, plodding slideshow into a theatrical event complete with heroes, villains, a supporting cast, and stunning backdrops.
Rehearse Like Crazy: 30 hours of rehearsing may be painful. It's definitely time-consuming. But there are no shortcuts to excellence.
Read Marta's full article, 7 Lessons From the World's Most Captivating Presenters, on HubSpot.
Don't miss our interview with Brené Brown sharing the inside scoop on how she became an influential speaker.