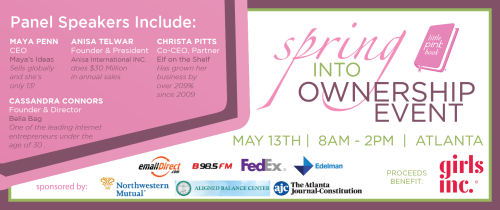 Little Pink Book celebrates rising women owners at their spring into ownership event!
On May 13, 2013, America's most successful and fascinating women owners will convene in Atlanta to celebrate rising entrepreneurs. Participants will learn from educational, inspiring and hands-on breakout sessions on topics ranging from motivating your staff, social media, marketing and the five things that keep owners up at night!
Hundreds of women attend this event annually to learn more on growing their business in this unpredictable economic climate, creatively breaking through the more traditional business structures and processes currently in place.
Panelists include:
Cassandra Conners, Founder and Director of Bella Bag, the second largest online seller of authentic, pre-owned luxury handbags and accessories. After starting Bella Bag with three luxury bags she had stashed in her closet, Cassandra is now one of the leading Internet entrepreneurs under age 30 in the Atlanta area.
Christa Pitts, Co-CEO, Partner, Elf on the Shelf, Last checked, she grossed $16.6 million in revenue and has grown her business by 209 percent.
Maya Penn, 13-year-old CEO of Maya's Ideas, launched her artisan crafted eco-friendly accessories and clothing company in 2008 when she was just 8 years old. She has been featured in Forbes, Huffington Post, Ebony, Redbook and Black Enterprise. Her designs are sold all over the world with customers in Denmark, Italy and Australia.
Anisa Telwar, founder and president of Anisa International, Inc., the beauty industry's leading global cosmetic brush design and manufacturing company in 1992. Today, Anisa International has revenue of more than $30 million. Her client list reads like a cosmetic industry Who's Who, including Sephora, Laura Mercier, Smashbox, Sonia Kashuk, Estee Lauder, Bare Escentuals and more.
Click here for details and to register at Little Pink Book.